Who is Danny Defenbaugh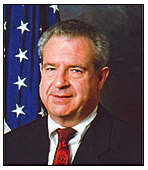 Danny was employed by the Federal Bureau of Investigation (FBI) for almost 33 years. His primary investigative responsibilities centered on violent crimes, i.e., kidnapping, extortion, hijacking, and terrorist/bombing matters. He served as a Special Agent in Chicago, IL, and as a Supervisor in Miami, FL; in the Explosives Unit of the Laboratory Division at FBI Headquarters; in the Inspection Division; and in the Office of Professional Responsibility. Danny later served as the Assistant Special Agent in Charge of the FBI Field Office in Mobile, AL.
Danny was a FBI-certified bomb technician for most of his FBI career and traveled to over 25 foreign countries in furtherance of the FBI's interest in thwarting international terrorism. He personally supervised over 150 bombing investigations, to include all the Puerto Rican terrorist group, FALN bombings in Chicago and the bombing investigations of the three terrorist attacks against American installations in Beirut, Lebanon. Danny has testified as either an expert witness or investigator over 100 times in federal, state, and local courts, to include the U.S. Congress and Military Tribunals. While assigned to the FBI Miami Field Office, he supervised the Major Case Squad encompassing all major violent crimes, international and domestic terrorism and all bombing matters. In addition, he was the Supervisor for the South Florida Violent Crimes/Fugitive Task Force.
In 1995, Danny was promoted to Inspector and named Inspector in Charge of the Oklahoma City bombing investigation. From 1998 until his retirement, Danny was the Special Agent in Charge of the Dallas Field Office of the FBI. FBI Dallas was designated one of the ten core offices leading the September 11, 2001 investigation of the Pentagon/Twin Towers terrorist attacks.
Danny is the only FBI Agent to receive two Attorney General Awards. In 1983, he received the Attorney General's Award for Excellence in Law Enforcement. In 1998, he received the Attorney General's Award for Exceptional Service for his management of the Oklahoma City bombing investigation. Danny received the Presidential Rank Award of Meritorious Executive in 1999.
Danny earned a Bachelor of Science degree in Administration of Justice from American University in Washington, DC, and a Master's degree in Forensic Science from George Washington University, Washington, DC. Danny is also a graduate of the Harvard University Program for Senior Managers in Government.
Danny owns Defenbaugh & Associates, Inc., a security consultant and investigations company specializing in Due Diligence, Security Vulnerability Assessments, and investigations. He is Sandia Laboratory Risk Assessment Methodology-Water certified. He is the Chairman of the Department of Homeland Security Region VI Infrastructure Advisory Panel for Private Security. Danny has appeared on all major US, and many foreign news networks as a topical expert on terrorism, bombings, crime and security issues.